Fiberspan Concrete Canales
Made in Santa Fe.
Definition: Canale (roof scupper), a spout/drain installed in the parapet of a flat roof building to drain rainwater.
Unlike most industry standard canales which are made of wood and sheet metal deteriorating rapidly in a few short years, our Fiberspan Concrete Canales endure the most extreme of weather conditions for many years.  With simple and straightforward installation, Fiberspan Concrete Canales easily attach to flat roofs and parapets for superior strength and durability. The wood grain design looks beautiful on traditional pueblo style homes or our smooth finish on contemporary style homes.
"This was our first project using Fiberspan Concrete Canales. Not only was I impressed with the overall product, aesthetically they exceeded my expectations."
Shane Woods
Woods Design Builders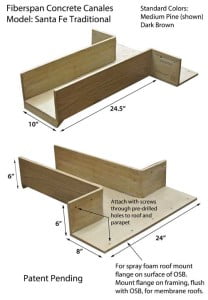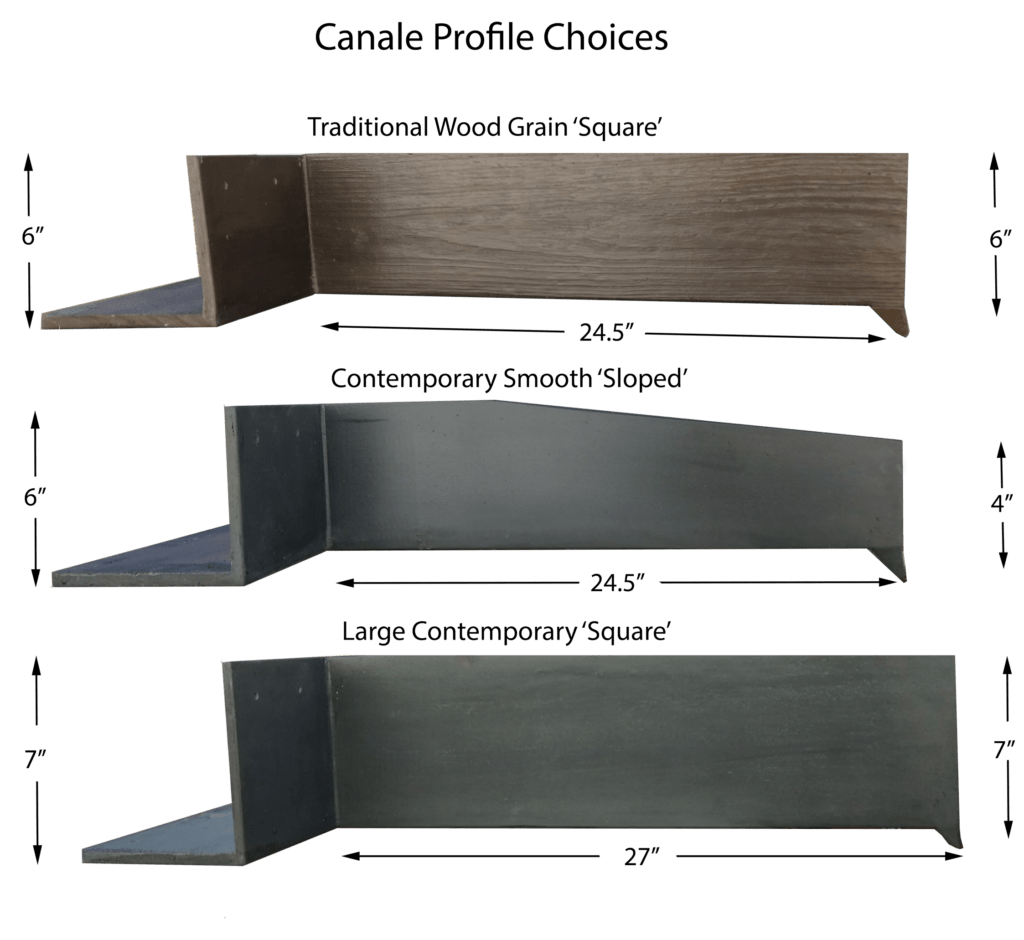 Features:
Made of durable Fiberspan Concrete

Looks exactly like wood or contemporary smooth finish

Strong attachment to roof and parapet

Easy installation

Weighs less than 35 Lbs

Can be adapted for downspout/rain capture

Made to withstand the ravages of UV light, ice and water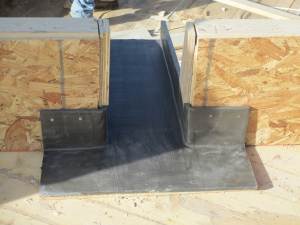 Lightweight, yet heavy enough. Patent pending. Built in our painstaking hand cast Fiberspan Concrete way. With a lightweight concrete composite and fiber reinforced heavy gauge mesh, our weatherproof  roof canales will stand the test of time while keeping the traditional aesthetic of wood or contemporary smooth. Built with the strength to hold the heavy weight of winter ice, year after year!
Style and finish choices:
Styles: Contemporary Smooth or Santa Fe Traditional
Side profile: Square or Sloped sides
Standard color choices: Contemporary Smooth – Bronze, Pewter or Limestone. Santa Fe Traditional – Medium Pine or Dark Brown
"Fiberspan Concrete Canales have revolutionized the way we are addressing roof drainage and water harvesting in our custom homes. 
Their elegant design, quality craftsmanship, durability and ease of installation, pair beautifully with the clean lines of our contemporary homes."
Erin Williams
Erin Williams Homes                                                                                                  
Contact us for information, pricing or to place your order.
Cell # 928-254-7738
replace canales, replace decaying wood canales, roof canales santa fe nm, canales albuquerque nm, taos, fiberspan concrete roof scupper, fiberspan concrete canales, patent pending canale, decaying wood roof canale, replace roof canale, roof canale drain, canale new mexico, roof canale made in santa fe, replace rotting wood canales, install metal and wood canales, scupper drain, santa fe canales, canale roof drain, santa fe style canales