Fiberspan Concrete Canales, Vigas and Headers
The strongest, most durable Canales, Vigas and Headers made!
Never deal with the decay, cost or maintenance of traditional wood vigas and canales again. There is an answer; Fiberspan Concrete Vigas & Canales (scupper drains). Capturing the full beauty of wood in a durable fiber reinforced cement composite that replaces those old decaying wood canales, vigas and headers.
Fiberspan Concrete Vigas, made in Santa Fe, NM will still look beautiful, endure time and the elements, even fire, for decades to come. A wood viga,  cannot last. However the look, the feel,and the impression of real wood is molded from traditional wood vigas and will never need maintenance, ever.
The facts: Did you know that decaying, termite infested wood vigas and canales have fallen causing injury to people, pets and damage to personal property?
Rotting wood vigas and canales can allow moisture to get into your walls causing potentially hazardous mold growth. Moisture damage can occur to wood, stucco, drywall, insulation and electrical requiring costly repairs!         For more info call: 928-254-7738
---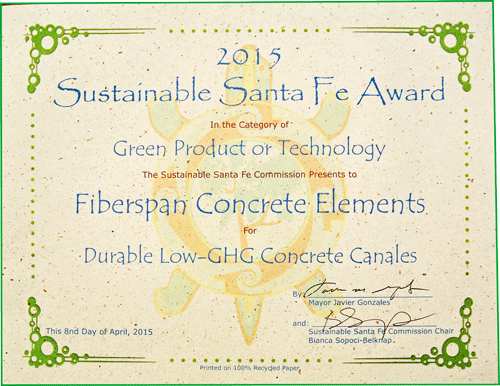 Canales
Fiberspan Concrete Canales (scupper drains) are made in Santa Fe, NM of a lightweight concrete composite, a proprietary mixture that is cast by hand. The modified reinforced matrix with color pigments throughout, and continuous interlocking fibers come together to produce a hard and durable canale, viga or a faux header that looks beautiful and lasts in permanence. Replace wood canales with Fiberspan Concrete Canales. If you are planning to build a new home install nothing less than Fiberspan Concrete Canales and Vigas.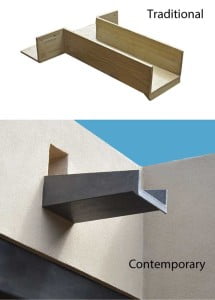 "Our company, modern design+construction,inc. recently utilized  Fiberspan Concrete Canales. Working with them was a wonderful experience, and the canales were perfect. I plan in the future to use their product, as the quality of the canales, choices of design and finishes, and ability to customize makes it a perfect solution to our design needs"
Modern Design+Construction
Bill Roth
Click for more on Fiberspan Concrete Canales …
For more info call: 928-254-7738
---
News Interview on KRQE News Albuquerque Oct, 15, 2014:
---
FCV's, faux vigas, faux wood vigas, Bigelow's vigas, Traditional Santa Fe style, Pueblo architecture, Pueblo revival, Phil Bigelow, Fiberspan Concrete Vigas on Gateway Canyons Resort, Gateway CO, Sedona AZ faux vigas, Cottonwood AZ, faux vigas, Verde Valley AZ faux vigas, viga tails, faux ponderosa, faux wood, Albuquerque NM, viga replacement, replace decayed rotten vigas, Tucson AZ, Green Valley, Southern AZ, wood vegas, replace wood vegas, rotting wood vegas, peeled log vegas, decaying wood vegas, faux vegas, peeled log, peeled wood pole, maintenance free vigas, Maintenance free vegas, Las Cruces New Mexico, Silver City NM, El Paso Texas, Utah, CA, fake vigas, Douglas fir viga peeled log, ponderosa peeled log, fir peeled log, Traditional Santa Fe style, Decaying wood canales, Fiberspan Concrete Canales, canales scuppers, Wood scuppers canales, Durable canale solution, replacement flat roof drains, made in tucson, az, replace vigas tucson, az